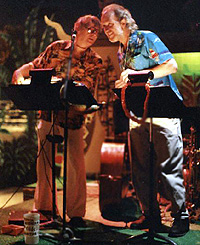 SEATTLE HAWAIIAN STYLE PARTY BAND
Kenny Krakatoa and the Coconuts™ began life as a special project for Seattle's Center on Contemporary Art (COCA). They knew our work from our long run (as the Pete Leinonen Trio) at Rebar. The show was called Cocacabana and was based on a South Pacific "Tiki" theme.
We prepared a repertoire of Hawaiian music and the trio was rechristened as Kenny Krakatoa and the Coconuts™. The show had a great run and in the two decades since we have continued as a Hawaiian-themed party band. The music is best described as what you might hear at the Honolulu Hilton. It's not really ethnographically correct Polynesian music, but rather the best Hawaiian songs from Tin Pan Alley mixed with the most famous English adaptations of traditional Polynesian songs. Here are some typical titles:
Across the Sea
Bali Ha'i
Beyond the Reef
Blue Hawaii
Cocoanut Grove
Drifting and Dreaming
Down Among the Sheltering Palms
Harbor Lights
Hawaiian Paradise
Hawaiian War Chant

Hawaiian Wedding Song
Ka-lu-a
Little Brown Gal
Lovely Hula Hands
The Moon of Manakoora
My Little Grass Shack
Pagan Love Song
Poinciana
Pearly Shells
Red Sails in the Sunset

Song of the Islands
Sleepy Lagoon
South Sea Island Magic
A Song of Old Hawaii
Sweet Hawaiian Moonlight
Sweet Leilani
The Hukilau Song
Tiny Bubbles
To You Sweetheart, Aloha
Yaaka Hula Hickey Dula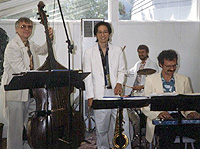 You get the idea...instrumentation is three to 10 pieces, combining Hawaiian guitar, bass, drums, woodwinds, brass, vibes, piano and percussion, depending on the size of the group. We recommend at least four pieces. Attire is Hawaiian shirts with light colored slacks and (optional) white jackets. Kenny Krakatoa is an excellent choice for luaus, pool parties and Hawaiian-themed weddings. We have done a lot of frat parties, too.