NEWS
From March 17 to March 28, 2013 I'll be in Austin, Texas playing sousaphone with La Banda Gozona, a wonderful brass band that plays the music of Oaxaca, Mexico. Any of you who might be traveling that way should come see us. We'll be appearing at various venues as part of HonkFest TX, a celebration of community brass band music. Schedules should be easy to find at music venues around town, or jusy google HonkFest TX.
In July, 2012 we celebrated my 70th birthday at The New Orleans Creole Restaurant in Pioneer Square.
It was a wonderful evening and we played selections encompassing my long career performing in Seattle. My first paid engagements in this community were at the age of 13 playiong second cornet in a band led by Neil Rush. I'll let you do the math, if you're so inclined.
For this special night we performed selections sampled from engagements spread over the entire duration. Old friends and colleagues from our long run showed up and it was truly a highlight of my life and career.
Of course we are by no means finished and the band continues working harder and playing better than ever.
Just one month later, in August, Gaye Anderson, the sainted proprietor of this wonderful, amazing venue passed away quite prematurely at the vibrant and youthful age of 62. Our hearts are broken and I regret to say that we no longer have a public venue in which to perform in Seattle, outside of the hundreds of private parties that sustain us and the occasional concert appearance. Gaye was the last nightclub proprietor in Seattle to treat jazz musicians fairly and respectfully.
This hasn't always been the case. Seattle was once a vibrant mecca for nightlife with huhdreds of live music establishments that paid a living wage and provided warm surroundings for the musicians in our community.
You can read about this fascinating history in...
Kurt Armbruster's excellent new book "BEFORE SEATTLE ROCKED... A CITY AND IT'S MUSIC" published by University of Washington Press. It's a wonderful read encompassing Seattle's varied musical roots from aboriginal days to the dawn of the corporate rock industry (about which enough books have been written to fill a barn). It also offers a prescient look at the changing circumstances that have led us to the state we find ourselves in today.
Attention Dancers!
The following appeared in the Seattle Post-Intelligencer on Monday, May 19, 2008, in an article on memory research, by Cecilia Goodnow:
"Researchers who followed nearly 500 people for 21 years found that ballroom dancing was the most protective leisure activity and appeared to reduce dementia risk by 76 percent. (Solving crosswords was one of the least protective.) Ballroom dancing combines aerobic, social and spatial challenges. But it may attract people who are at low risk of dementia anyway." This is good news!
Pete Leinonen celebrated 50 years as a jazz performer on Sunday July 14, 2007, at The New Orleans Creole Restaurant. He'll return with the Pete Leinonen Band (our modern jazz project) on first Thursday, August 7, 2008 from 7 PM to 10PM for the gallery walk. Hope to see you all there. More details, and events can be found on the calendar page of this site.See our links page for more about The New Orleans, an all ages venue.
Salon du Swing's first appearance (for USA Dance) at Washington Dance Club was a great success. A big dance floor filled with great dancers kept us going from 8:15 PM to 11:00 PM. Serious ballroom dancers are notoriously chgallenging for live bands because they choreograph their style to recordings having quite specific tempos and rhythms. We're proud that many dancers, all we talked with, said we were the best they've ever had. Several said we were the best band they ever heard. Thanks for a great night.
Thanks to our favorite dinner club, The Ruins, for once again inviting Salon du Swing to celebrate New Year's Day with the members. Seattle owes Joe and Virginia a huge round of applause for creating this elegant and soulful venue. I understand we'll be back again next year. Thursday, Jan 1, 2009, 12 noon to 4 PM, members only.
Salon du Swing played for the Seattle Scores charity auction, also in April. Held at the Seattle Yacht Club this time, the auction was again hosted by our friend Christine Chen. It was the second year running for both us and Christine, who's great with a band. The theme was "Hooray for Hollywood" (a tricky number for you musicians out there. If anybody knows the correct chords, we'd love a cheat sheet). As always, the staff at SYC was a joy to work with.
Seattle Scores is a worthy cause and they put on the best auctions. Highlights included a rare and humerous speaking appearance by basketball legend Bill Russell, another by Pulitzer winning cartoonist David Horsey and many amazing auction items. I think they raise more money at this auction than any we do.
Radio Rhythm, The Music of John Holte has received airplay on KBCS-FM and KPLU-FM. Feel free to call them and request it! Our first three months of performances following release of the CD have been very well attended and CD sales have been brisk.
David Keys wrote a very nice story about the Radio Rhythm Orchestra in the March 2005 issue of Northwest Jazz Profile. The CD has received very nice reviews from Gary Bannister (Victory Review, June 2005) and Doug Bright (Heritage Music review, July, 2005).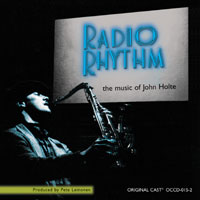 Be sure to check out the recording, Radio Rhythm, The Music of John Holte, Original Cast CD OCCD-015-2. The late John Holte was an important force in the swing music revival, and we're proud to offer this collection, performed by his Seattle swing band, the Radio Rhythm Orchestra, for your listening and dancing pleasure.
Radio Rhythm, The Music of John Holte, is now available in Seattle from Bud's Jazz Records, Tower Records (Queen Anne), Silver Platters, and on this web site on the Purchase page. For more about "Radio Rhythm", see the Recordings page.
Radio Rhythm, The Music of John Holte is our first compact disc, but we have 14 earlier releases in other formats, and a few are still in stock. We'll be making them available soon, so watch this space for more information.