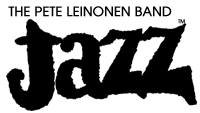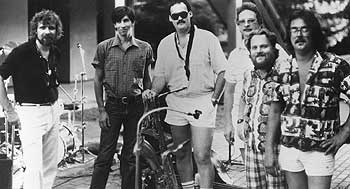 The Pete Leinonen Band is the modern Seattle jazz band that has played on most of my recordings since the introduction of Original Cast® as a record label. It was formed in the 1970s as I was completing my training in composition with Bill Smith at the University of Washington. I needed a band to write for on a regular basis, as I had for student ensembles and Bill's quartet.
Functioning primarily as a vehicle for my original compositions, our timing was good and we soon became regulars in clubs and festivals throughout the Northwest. The group attracted other writers and we created an extensive library, supplemented with existing music but avoiding standards that were being played to death by other groups. This approach attracted a loyal following and for several years we were among the most prominent groups in the Northwest jazz community.
Our first recording, Ashfall, was a vinyl EP inspired by the eruption of Mt. St. Helens in 1980. It sold well, got lots of airplay, great reviews, and a mention in Time magazine. A few copies remain and will become available in the future on this website. Subsequent projects appeared on cassette, and we plan to make them available on compact disc in the future.
In the meantime, all the principals are still in Seattle, and we remain available to perform for our old fans, as well as new audiences seeking a unique musical experience. Five pieces and up.
Pete Leinonen on bass is a real talent and should emerge as one of the region's top players.
—Victory Review, December 1976

This is not toy jazz; this is the real thing!
—Mile Nestrovich, legendary hi-fi designer, 1980