SEATTLE SOCIETY BAND / SEATTLE VARIETY BAND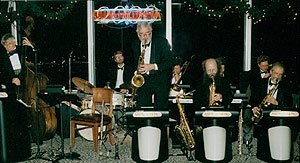 Salon du Swing is currently our most popular group, in number of bookings. We have played for private social events since our first gigs in the '50s, but in the 1980s, as there became fewer venues for the public to enjoy our work, the trend turned to private parties. It was the beginning of the swing revival, and people were rediscovering the joys of acoustic music in intimate settings, and "touch" dancing.
We had been playing these parties with our festival show band, the Olde Seattle Rhythm Band, but in our media testing, the new name Salon du Swing tested better, so we took that name in the mid '80s.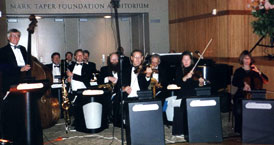 This is the name that most people know us by from parties they have attended, and we work a lot. There have been nights when we had as many as 5 bands working in different venues.
We are able to do this because there is a large pool of musicians who have been playing with us for decades. Each combination is selected for the specific needs and tastes of the occasion. The groups range from one-piece to 20 or more and can be all instrumental, or include a featured vocalist. Whenever possible, we try to have all acoustic instruments in the band. This enables us to fill the room with beautiful sounds and still be soft enough for people to sit right in front of us and converse without raising their voices.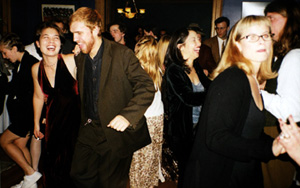 Despite the use of swing in our name, we are a true variety band. We also play jazz (traditional and modern), latin (including salsa, bossa nova, calypso, tango, cha cha, rumba, bolero, samba, conga, Mexican, Cuban, Brazilian, Buena Vista Social Club, etc.), waltz, foxtrot, rock, Motown, rhythm and blues, standards, show tunes, and most ethnic traditions including French, Italian, Irish, Scandinavian, polka, Jewish, Hawaiian, classical, country, and most other styles.Our repertoire is probably the most extensive in Seattle, and it is rare for us to encounter a song list that we don't already know most of the titles.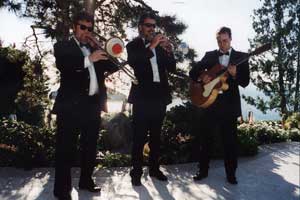 On occasion we have appeared at a single event in several different forms, with costume and set changes. In all styles, we play the most well known and frequently requested titles, so people will go away having heard their favorites. The obscure titles we save for concerts and recording. We will eventually be placing a sample song list on these pages, but in the mean time, you may assume that, if it's in print, we can play it.
We will be adding audio files to this page in the future. In the meantime you may call (206) 522-3326 to schedule an appointment to hear recordings of past events. Ask for Pete.
Once contracted for a date, we work with our clients like we were their personal servants, until every detail has been thought out. This is so the party itself will come off as a totally spontaneous happening, joyful and magical because your guests are swell people. The planning and organization should be invisible.
People love us, and most of our work comes by word of mouth. This is because we like to play for parties, and we put the party first. If everyone is just standing around staring at the band, thats not a great party. The trick is to have the perfect music playing at every moment for whatever else is happening; drinks, dinner, greeting, dancing, games, whatever. It's nice hearing that we're a great band but what we really love to hear is "this is the best party ever." When you hire Salon du Swing™, you're not getting a band that's slumming until the big break. You're getting a band that loves our work and is truly glad to be there, Seattle's best party band.

Listen to audio of our clients' comments in their own words:

Here are links to the free audio players:
I'm going to pass along your email to Pete Leinonen, the master bassist and lead musician I think will put together an excellent ensemble for your wedding and the party. My advice is to use his experience and expertise to the hilt, which means I'd strongly suggest involving him in helping shape both the music for the ceremony, the music for the party, and the specific instrumentation (based on what he knows about the musicians). Pete has been to hundreds more weddings that any of us and knows a lot about what works, what doesn't, and what ends up sounding great but then doesn't work. He's really a pro, and easy to work with.
—Dean Paton, Living Traditions