SEATTLE NEW ORLEANS STYLE MARCHING BRASS BAND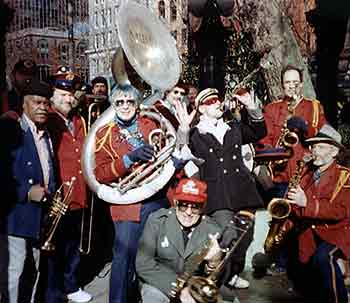 Muskrat Rabble™ is a New Orleans-style brass band like you might encounter on the streets of the crescent city during Mardi Gras. We began as an experiment.
Since the late '40s, "Dixieland" bands have had a great following in America. Based on the King Oliver, Louis Armstrong, and Original Dixieland Jazz Band records of the twenties, they follow a traditional formula that has changed little, the great inspiration being Louis Armstrong who was the first great recorded jazz soloist.
In studying the literature, we learned that, prior to Louis Armstrong's breakthrough, the music had been primarily an ensemble form, played by Creole musicians who had extensive classical training. We began rehearsing the music in this style and soon grew to 10 pieces.
Our studio was in Seattle's Pioneer Square, and soon we were asked to play the music on the street as a "ballyhoo" for the annual Fat Tuesday celebration. We collected an assortment of antique band uniforms, parade drums, and a sousaphone and incorporated modern street beats and funky bass lines like the Dirty Dozen Brass Band and other contemporary New Orleans favorites.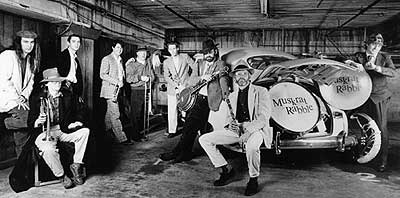 We held that position, for the entire duration of the Fat Tuesday tradition in Seattle, appearing on all the television coverage, and garnering critical praise as the most authentic element of the festival. We have continued as Seattle's hippest choice when the occasion calls for a funky, uniformed band that can march.
We still play for all kinds of Mardi Gras parties as well as parades, rallies, jazz funerals and wakes, and sit-down traditional jazz concerts. For the 100th anniversary of the Alaska-Yukon gold rush, we created a 22-piece orchestra playing the hits of 1897 with authentic instrumentation. We also have an educational Veterans' Day program of historical military music.
Muskrat Rabble will sometimes open an event as a marching band, seemingly arriving spontaneously off the street, then appearing later as Salon du Swing™ for dinner and dancing.
Fun, reverent, spontaneous and anarchic...something they call "post-modern classic jass". It's roots-rattling New Orleans-style jazz with a big sound that leaves plenty of room for even bigger imaginations. The group is known for parading through the audience and turning the show into a Mardi Gras-style party.
—Cathy Ragland, Seattle Times, December 21, 1987

Unique...the way Frank Zappa would play it if he were to start a brass band.
—Federal Way News

Brassy, boisterous rags, marches, and two-steps.
—Carla Sabotta, Seattle Times

A parading horn band, Muskrat Rabble added a true taste of New Orleans traditional music. Even the ever-present homeless seemed to be having a good time.
—Roberta Penn, Seattle P.I.