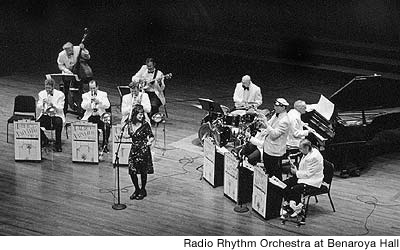 The Radio Rhythm Orchestra is the last in a series of Seattle swing bands created by the late John Holte. Currently led by Pete Leinonen, the orchestra is available in various configurations ranging from six to fifteen pieces, with and without vocalists. We have been in existence since 1972, first as The New Deal Rhythm Band, followed by the Swingland Express, John Holte Swing Band, and finally Radio Rhythm Orchestra, and have been credited with inspiring the West Coast Swing Revival.
Appearing frequently at venues including the New Orleans Creole Restaurant, the Century Ballroom, New Melody, China Harbor, Living Traditions Dance, West Seattle Golf Course, Seattle Center, Bumbershoot, The Fenix, The Showbox, Benaroya Hall, and numerous other establishments, we have also played for countless special events including weddings, anniversaries, birthdays, corporate events, New Year's Eve and Christmas parties, U.W. homecoming dances (we outdrew Nirvana), Harvest balls, fraternity and sorority parties, World Fairs, political events, in films and recordings, and for all the local swing dancing clubs. We have developed a loyal and diverse following in the swing dance community, and appeal to all age groups. In addition to dancing, the orchestra is also enjoyable in a listening environment where we can deliver a happy and uplifting experience in these troubled times.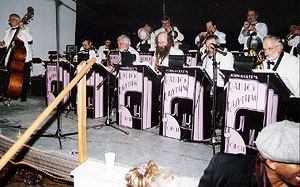 Some recent highlights include Swingout Northwest's big New Year's Eve ball in Port Townsend this year, and several appearances with both Frankie Manning and Norma Miller, the creators of the Lindy Hop.
The repertoire includes the greatest arrangements from the swing era as well as John Holte's delightful original compositions , many of which are available on our newest recording, Radio Rhythm, available on the Recordings page of this web site. We are currently featuring two delightful vocalists, Shaw Fitzgerald and Tammy Williams, and can also put you in touch with the very best swing dance instructors and/or demonstrators.
Booking duties are handled by leader Pete Leinonen, (206) 522-3326, originalcast@comcast.net.
The following essay is from the liner notes of our compact disc, Radio Rhythm.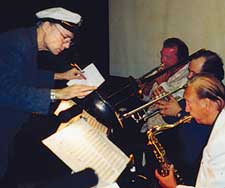 Impressions of the Captain
by Pete Leinonen
During the early 1970s, I was in and out of Seattle, alternating road gigs with an active schedule in the local clubs. It was a great scene, compared to today, with lots of local clubs featuring live jazz. There were also a few big bands, holdovers from an earlier period, with whom I enjoyed a fairly steady flow of casual engagements. The swing bands had an older following, and the modern jazz groups enjoyed a smallish, younger audience, but neither made a significant dent in the substantial audience that the rock bands enjoyed.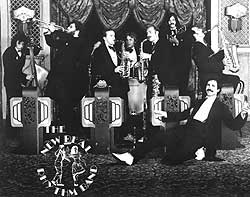 In 1973 when John's first band, The New Deal Rhythm Band, appeared at the Inside Passage in Pioneer Square, word spread rapidly, and the group was soon enjoying press coverage and street credibility way beyond what any of us could garner. I suppose we were rivals in those days, and the few times I saw the New Deal in action, I was quick to dismiss them as campy satire; a parody of the groups that had been an income stream since 1957. I was wrong.
Over the following decade, John and I shared many afternoons side by side at the photocopy centers, he with his stacks of obscure stocks, and I copying parts for the more modern compositions I was writing and performing. We hardly acknowledged each other's presence, save an occasional glance at the other's projects, which may as well have come from different planets, and an encouraging nod.
In 1982, out of the blue, John called me to participate in two of the recording dates that make up disc 1 of this collection. It was the first time we played together, and a revelation. John was as authentic as can be. Without a hint of self-conscious nostalgia, this was a contemporary artist. He regarded rock stars of the period as his peers. Listen to his take on Honky Tonk Women (Disc 1). It's as authentic as a pop tune of the thirties arranged by Ellington or Lunceford. He managed to simultaneously live in the moment and in a completely different era, planet even. I came to view him as the "Sun Ra" of the West Coast.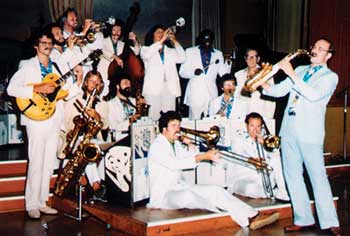 John was a true crossover artist, creating the first swing band to connect with the rock generation. The news spread fast and many have credited him with initiating the swing revival on the West Coast. I can recall some of today's leading dance couples as junior high school kids trying out their first Lindy Hop moves in front of the orchestra.
John's effect on me was immediate. I fell into the vortex. Musicians I met in his bands became my favorites. For my next appearance at the Bellevue Jazz Festival, I debuted the Olde Seattle Rhythm Band which evolved into my working group Salon du Swing, both strongly influenced by John. We continued to work together, and we worked a lot, with steady weekly appearances, and hundreds of casuals over the next two decades. We shared a taste for performing on the brink of disaster where, if you're lucky, magic happens.
When I soloed he gave me a long leash. I could play any notes I wanted. He only yelled at me once, for losing the beat. I never did that again. One night he happened by my studio when an "outside" session was in progress. He took out his alto without saying a word, and fell in, completely comfortable and sounding a lot like Ornette Coleman.
Gaye Anderson and the late Jimmy Allen, proprietors of the New Orleans Creole Restaurant, were our strongest supporters in the jazz community. One evening Jimmy brought Wynton Marsalis in to dine while awaiting a connecting flight to Japan. John had 10 pieces that night and, in addition to the regular book, he was also calling tunes from his "x book", a special collection of numbers from the twenties and thirties for which Robin Kutz would switch to banjo and I to sousaphone. Wynton gave us a warm greeting as he left for the airport, and the next time I saw his big band, he had added a sousaphone. John's influence?
As a composer, John's discipline continues to amaze. He literally composed and/or arranged a new library for every extended job he landed, no matter how marginal.
Nearing the end of a life that was cut far too short, John gradually transfered the reins to me, leaving me with custody of the library, a magnificent body of work that filled two truckloads. The Radio Rhythm Orchestra continues on the path that John laid; I'm just the curator.
The 11 studio cuts I produced for Disc 2 comprise the last original compositions of John's life, performed by his final working band.