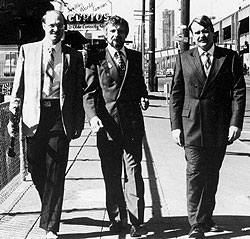 The Olde Seattle Rhythm Band is a Seattle swing band that came into being in the early 1980s. We had been playing a lot of modern jazz as well as earlier forms of swing and traditional jazz (Dixieland). It was our observation that between these styles there was a period of small groups, jump bands, that played a mix of swing and blues and anticipated the nascent styles of bebop and rock ''n' roll. There was a generation of Seattle players who had worked in this idiom in the '40s (the Jackson Street era) as it came to be known, and had matured to the status of master musicians, yet were largely unknown to the festival audiences. Since I had a good following in the local festival circuit, I decided to use the opportunity to introduce these players to the Festival goers and created the Olde Seattle Rhythm Band for that purpose. With a lineup that included saxophonists Freddie Greenwell, Ronny Pierce, and Jock Budleman, trumpeter Carle Rising, drummer Murray Sennett, and a young rhythm section of Andy Carr on piano, Jake Powell on guitar, and Pete Leinonen on bass, the band was a hit with critics and audiences alike at the Bellevue Jazz festival for two years running, 1988 and 1989.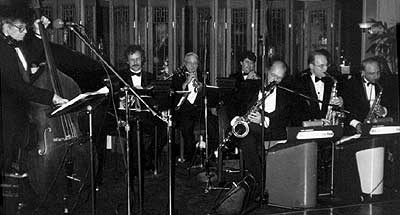 After the concerts the group went into the studio and recorded the material that will become our next upcoming release on the Original Cast® label.
On the strength of our early success, we went on to play a lot of shows and parties, in combinations from 3 to 22 pieces. including a great street dance in Pioneer Square, and a sensational concert at the Moore Theater.
We still play occasionally under the earlier name for fans that remember those days, and the group continues today as Salon du Swing.
Joyful jump swing! —Victory Music Review, August, 1988